Home
Some Of The Most Basic Steps And Guidelines For Installing Modified Bitumen Roofing
Modified bitumen roofing material is similar to a membrane flat roofing. It is in fact advancement of asphalt roofing and is easier to install as compared to the traditional styles of gravel and tar. The modified bitumen is well-matched with petroleum, so it can even be installed over existing tar roof.
However, if your flat roof is covered with gravel, the right way is to approach a professional for getting it re-roofed. Sbs roofing by soprema.ca is one of the best ways to get your roof protected for a very long period of time. After all, if the work is done by the best professionals, it is ought to be perfect.
Few basics to remember while going for Modified bitumen roofing
Make sure to consult with your roof inspector to let them check whether you require tearing off old roofing or reroofing over existing one is a good option. Make use of the flashings that are approved by your apartment of building department.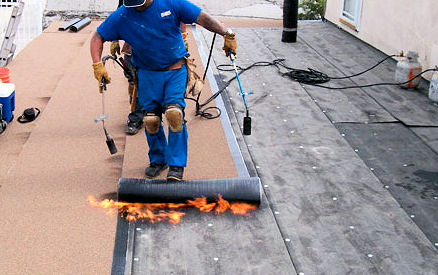 Generally, the modified bitumen roofing have granular surface or it can even be smooth. In case you are considering installing smooth product, you can easily cover it with the aluminum coating.
Limitations or cautions while installing
Make use of only the compatible adhesives and primers.
Don't torch direct-to-flammable substrates.
Apply the roofing materials over dry and clean surfaces in accordance with good roofing substances.
Torch base sheets to appropriate substrates only. While some of the rigid insulations may need suitable overlay, the fibrecants and wood fibreboard aren't acceptable.
Provide appropriate protection against fire especially while using the propane torched applied membranes.
Prestart Checklist
Tools – Chalk-line, tape measure, utility knife having hook blade, hammer, spark igniter, large propane torch. It is recommended to use the torches that are specially designed for torching the roofing material
Time – It may take one to two days working with helper to lay modified bitumen roofing for 500 square foot roof
Preparation – Measure as well as make drawing of roof and consult with a reliable dealer
Skills – Using torch, cutting, measuring
Materials – Heavy roofing felt, roof insulation, drip edge, modified-bitumen roofing, cap nails, spray primer, roofing cement, and other flashings
While opting for modified bitumen roofing, it is important to hire the right professionals to get the job done accurately. They will help you to choose the most suitable forms of the modified bitumen roofing among the peel and stick installation and torch down method.