Wedding
How to Make a Memorable Wedding Invitation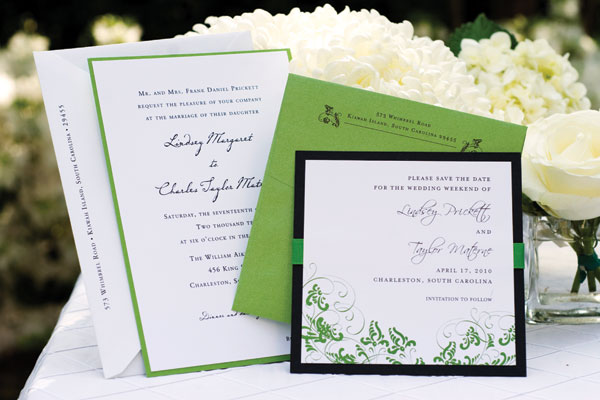 Wedding invitations are often the first thing that someone sees about your wedding. Your friends and family might see you post about it on social media, or they might not. When that invitation comes in the mail, they'll definitely be aware that you're getting married. If it is an attractive invitation, people will likely put it up on the refrigerator, so they can remember to attend.
If you've attended many weddings, you know that the photographers love to take photos of the wedding invitations. Many people like to capture the moment by creating scrapbooks that involve their wedding invitations. Whatever the case may be, you need to have an attractive wedding invitation that stands out.
Why Design Your Own
If you have a hard time finding invitations that express your wedding announcement ideas, then you might need to branch out into designing your own invitations. You actually do not need to have a lot of skill with graphic design to make your own wedding invitations. You just need to find a site online that will allow you to piece the elements together in a way that you find appealing. This means a site that offers up the various elements of the wedding invitations with several options for each. These options consist of style, colour, material, and even design. A wedding invitation consists of an envelope, an insert, the invitation itself, and oftentimes an embellishment of some sort.
With that level of customizability, you can design a wedding invitation that perfectly suits you and your future spouse. If your wedding is themed, then designing your own invitation can be even more appropriate, because it can be difficult to find an invitation that fits your specific theme.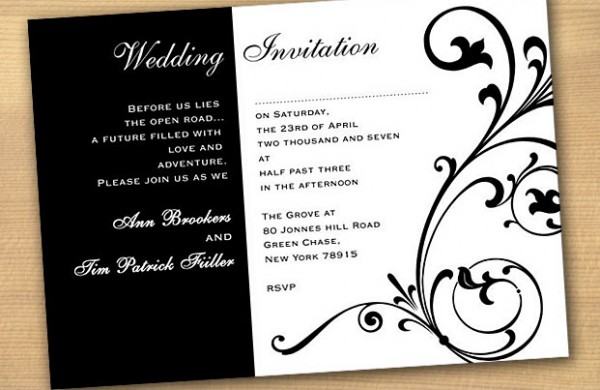 Envelope
So, the invitation begins with the envelope. The envelope you choose will largely be dependent on your invitation, but not completely. The shape of the envelope, for example, will likely depend on what shape you choose for your invitation. Rectangular envelopes typically fit square invitations, but they can look somewhat awkward. However, the material and the colour of the envelope need to be unique. It should match the material and the colour of the invitation or at least complement it.
For example, if you are planning a rustic themed wedding, you might want a matte finish envelope in something like brown or tan. These envelopes, especially those that give the feeling of being unfinished, better mimic the wood and earth tones that are indicative of the rustic theme. However, if you are planning a destination wedding at the beach, you might want something glossy and finished in a colour like baby blue or aqua. This would better reflect colours more common in ocean-themed venues.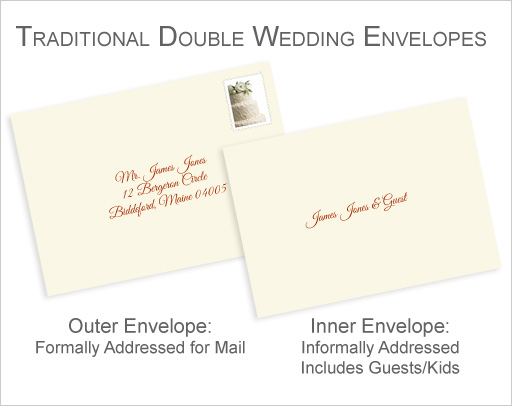 Invitation
The first thing to consider with the invitation itself is its shape. Do you want a square or rectangular invitation? Do you want one sheet or do you want it to fold open? You should think about the colour and the finish as well.
One sheet invitations are popular, because they are less expensive; this is obvious, because they feature less ink and less paper. Single-sided invitations are also very popular, since they are the easiest for your guests to display on their refrigerators or mirrors. They can adhere to surfaces with a magnet and don't fold awkwardly.
Folding invitations are more popular for those who want something that can last a little bit longer. Folded invitations are slightly more resilient, because they can be closed to protect the ink and paper on the other side. They are harder to display on refrigerators, since they fold, but they can be displayed with two or more magnets. They are also slightly more expensive as they feature more paper and more ink. Also, they might be larger than single-sided sheets, so they might require larger envelopes.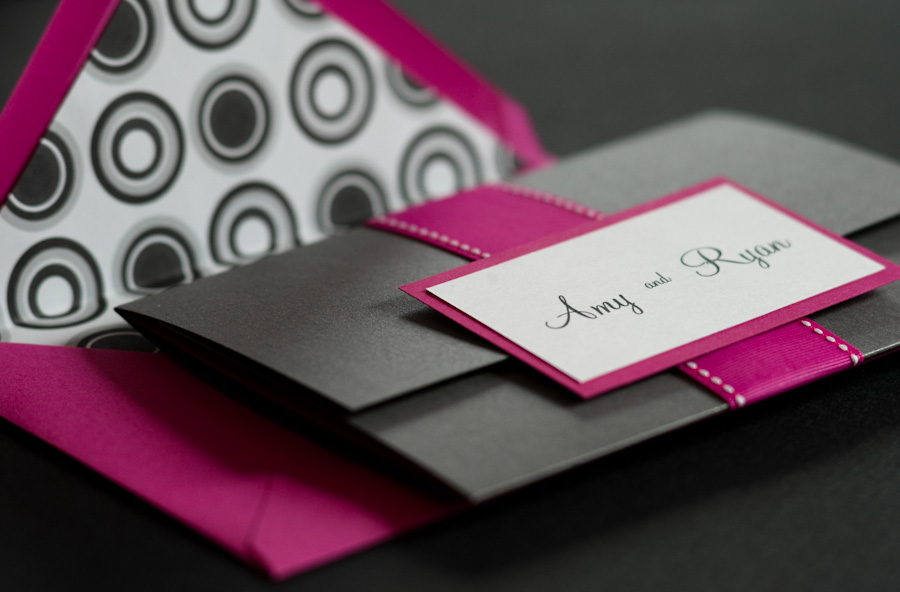 Inserts
Inserts are common inside of wedding invitation envelopes. They protect the invitation and the envelope from any ink bleeding, as well as helping to set the mood. These inserts come in many different colours and styles. However, many people forego them altogether. Modern inks and papers do not bleed very easily. Tissue paper is a common and inexpensive insert, which does not add much weight to the envelope and can be disposed of without guilt. More expensive invitations might even feature satin inserts. This might not be appropriate for certain themes or might even be inappropriate depending on the wedding's budget.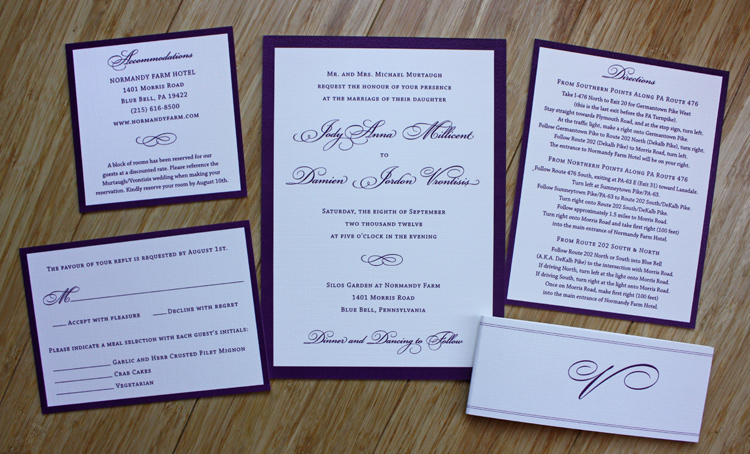 Embellishments
Wedding invitations are often embellished with some kind of ribbon. These ribbons are commonly made of satin, since it is a cheaper alternative to silk. However, more rustic themed weddings often opt for different materials. These materials are often hemp, twine, or burlap. These rougher, more rustic materials are very popular for weddings that will set a certain mood.
Some people choose not to use embellishments at all, since they are expensive and do not serve a true function.
When you are planning your wedding and your wedding invitations, you should be able to get something that is customised just for you. Creating your own wedding invitation allows you to set up an invitation that fits your theme, your mood, and your budget. You can opt for higher-end materials in one aspect of the invitation while saving money in some other aspect. You can typically save money by ordering the invitations unassembled. That means you will have to address them and assemble them yourself. That involves a little bit of labour, but it will definitely save you some money.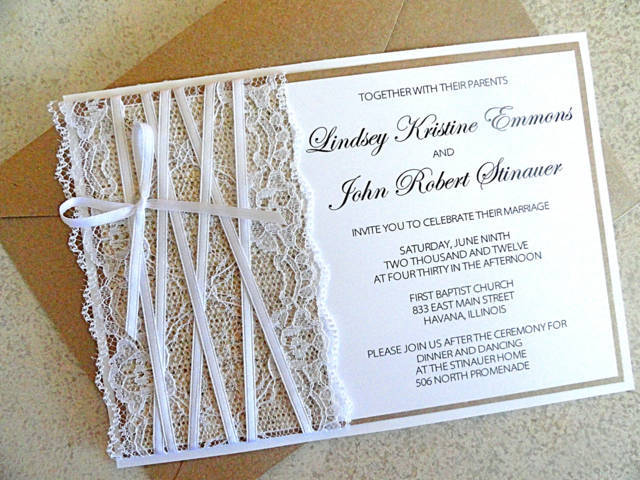 The glory of customisable wedding invitations is the level of specificity that you can attain. As you look through the dozens of offerings for every aspect of your wedding invitation, you might notice that some colour or material is unavailable for a certain aspect of the invite. Depending on the circumstances, it is very likely that the invitation production company will be able to produce the specific colour and material combination that you are looking for.
It's your wedding, and you should be able to customise all of it.