Travel
The Must-Visit Hill Destinations of Sri Lanka
Are you looking forward to spending your honeymoon or vacation in a tropical country? Then Sri Lanka can be on your list. The island country on the lap of the Indian Ocean has the abundance of flora and fauna scattered across the forests, tranquil hills, pristine beaches, and the meandering riversides. If you are intending to explore the breathtaking hill destinations in Sri Lanka contact Uniktour Travel.
The Top-Listed Hill destinations in Sri Lanka
Kandy-
Said to be the last bastion of the Sinhala rulers, Kandy- the hill capital, holds the records of the glorious past. Located at an altitude of 500m and only 115 km inland from the country, Kandy offers a lot from culture, rich heritage, urban buzz, citadels and of course the Sinhalese history. During 1815, the lovely 'coty' came to the hands of the British after defying the Dutch and the Portuguese.

Honeymooners picking Sri Lanka among the list of the popular tropical honeymoon destinations shouldn't afford to miss the historic August Moon festival celebrated every year in Kandy.
The top attractions of Kandy are the Kandy Lake made by Sri Wickrama Rajasinha in 1807, Peradeniya Gardens popular for its 300 varieties of orchids and spellbinding plant ornamentations, the spectacular 35 peaks of the Knuckles range treasuring the country's various flora and fauna, the breathtaking Hanthana Mountain famous for its streams and rivulets, and the Kandy Museum preserving various Tooth Relics.
Resorts– Palm Garden Guest House, Queen's Hotel, Castle Hill Guest House, Kandy Hills Resort, Highest View, and Kandy Panorama Resort.
Nuwara Eliya
Popularly known as the 'Little England'- the place was dominated by the British for many years. Foreign tourists enjoy the verdant 18 golf courses and the Hakgala Botanical Gardens.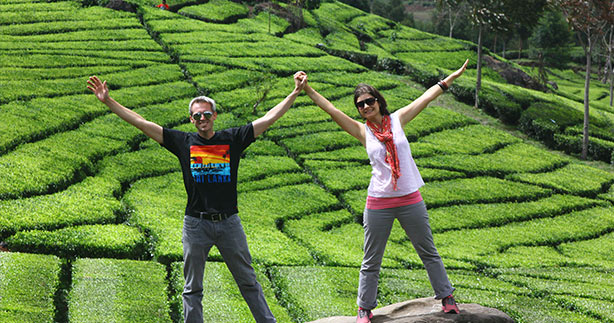 Ratnapura
The rural destination situated at a distance of 100 km from Colombo is a prominent hill station of this country.
Sri Pada (Adam's Peak)
Sri Pada is one of the popular hill spots in the country with some of the most fascinating legends. People here believe that Adam- the first man created by God first landed here, while according to some, the massive footprint on top of the 2243m peak is the footstep of Lord Buddha or St. Thomas or even Lord Shiva. But whatever may be the story behind the pilgrimage- the incredible natural beauty of the place is perfect to give the honeymooners a romantic nook here.

These are some of the top listed hill destinations of the Indian Ocean's 'Pearl'- Sri Lanka.